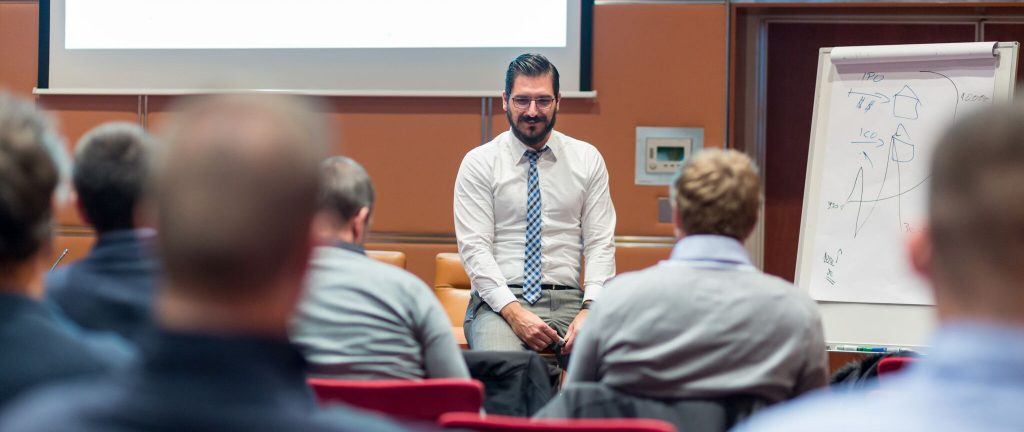 Recent data indicates that up to 30% of the population may have anxiety problems when facing the public either in large or small groups. This particular performance anxiety generally has a negative repercussion on the academic or professional future of those who suffer from it. Many ambitious professionals have been thwarted in their attempt for promotion as a consequence of their inability to speak or to present effectively in public.
The conventional treatment of choice for this type of phobia is usually based on exposure techniques combined with relaxation therapy. Cognitive restructuring also has a role to play together with training in public speaking skills where appropriate. However, live exposure sessions can be difficult to execute as the sourcing of a suitable space or location together with a compliant audience is challenging. In addition, control over the audience reactions and other matters that generally depend on factors outside the psychotherapist's control increase the complexity of ensuring a successful outcome when using exposure therapy.
At the VRIT clinic, we use virtual reality immersive therapy to build a safe and measured environment to gradually expose you to a variety of settings that would normally have initiated a fear of public speaking. Under the guidance of our trained therapists, you will learn how to understand and readjust your response over time and under different conditions to ultimately improve your quality of life and achieve your goals.
Evidence is growing to support that VRIT is particularly well-suited for treating fear of public speaking quickly and effectively. Real-time exposure is complex and expensive, and the process can rarely be repeated consistently. That is why until now psychotherapists have relied on imagination exposure, although it is also ineffective as it depends on each person's ability to imagine the relevant situation.
Virtual reality enables the psychotherapist to offer a safe environment while providing a realistic and accessible experience within the treatment room. At the VRIT clinic, our therapists combine VR with other innovations, such as bio-feedback, to design the most effective treatment programme for you.